Bass Fishing Charter with Capt Mark Rose on Lake Okeechobee
Hello this is Capt Mark Rose with your Lake Okeechobee fishing report.
I'm Just leaving the Clewiston boat ramp, I was out today with Mark, Rob and Eric, they did very well today. Checkout the pictures below…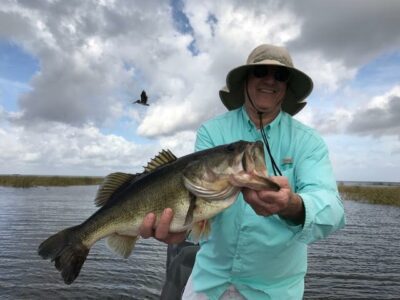 We fishing with shiners today and used 6 dozen of the wild shiners. We bounced from place to place, all over the lake from the east wall and down around the west wall.
The guys caught a lot fish everywhere we stopped, biggest fish today was 7 pounds 2 ounces and we had a lot of fish that were over 3 pounds. The water temperature was 72 degrees, it was sunny out and a all around nice day.
We caught quite a few fish by the end of the day and had fun hanging out on the water together. I hope to fish with these guys again sometime, they were also interested in another Bass Online guide taking them out on a trip to catch peacock Bass.
That's it for now for all Your Florida freshwater fishing adventures go to BassOnline, this has been your Okeechobee fishing report with Capt Mark Rose.